Lab files:
• azuredeploy.json
• azuredeploy.parameters.json
• install_iis_vmss.zip
Download: Lab1.zip
Objectives:
After completing this lab, you will be able to:
Deploy Azure VMs via

Azure portal
Azure PowerShell
Azure Resource Manager (ARM) templates

Configure networking settings of Azure VMs
Deploy and configure Azure VM scale sets
Task 1:
Deploy an Azure VM running Windows Server 2019  Datacenter into an availability set by using the Azure portal
Start a browser of your choice
Browse to the Azure portal (Link)
Sign in (by using an account that is member of the Owner role in the Azure subscription you intend to use)
Navigate to the "Marketplace"

Search the Marketplace for "Windows Server"
Select Windows Server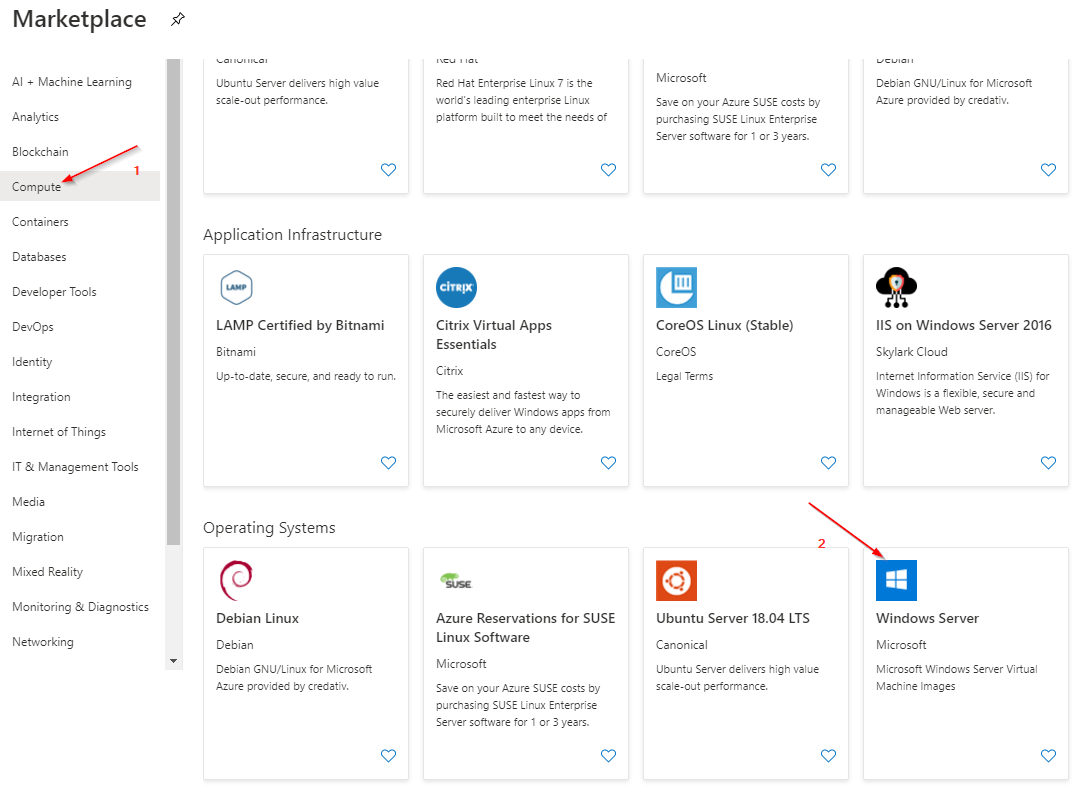 On the Windows Server page, use the drop-down menu to select "Windows Server 2019 Datacenter", and then click "Create"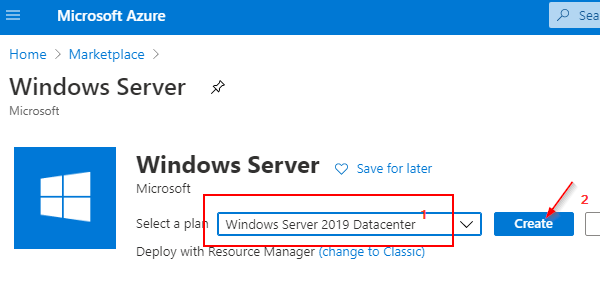 Use following settings on the VM deployment blade:
Basics:

Subscription: Choose the subscription you are using for this lab
Resource group: Create a new group or choose an existing one
Virtual machine name: e.g. "az104-vm0"
Region: Choose any region (the best match would be a close one)
Availability options: Availability set (create new)

Name: e.g. "az104-avset0"
Fault domains: 2
Update domains: 5

Image: Windows Server 2019 Datacenter - Gen1
Azure Spot Instance: No
Size: Standard_DS1_v2
Username: e.g. "LabAdmin"
Password:****** (free choice)
Public inbound ports: None
Already have a Windows Server license?: No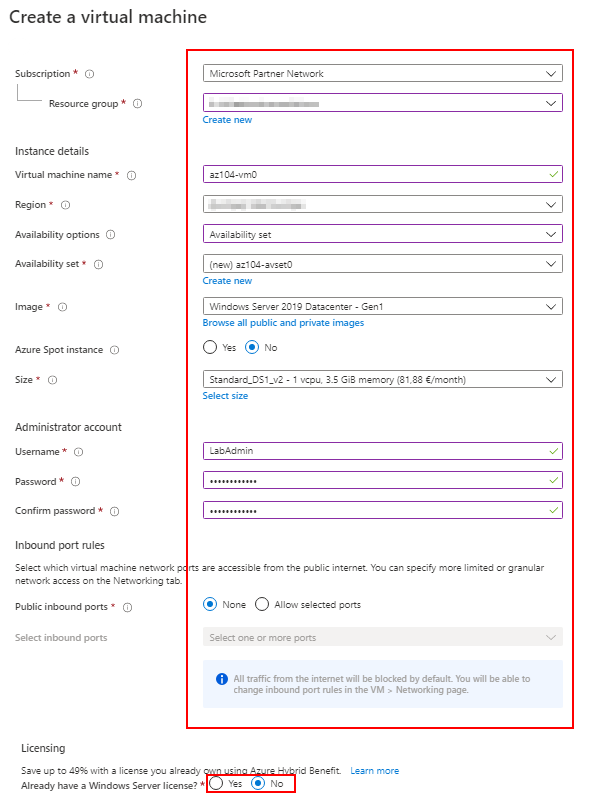 Disks:

OS disk type: Standard HDD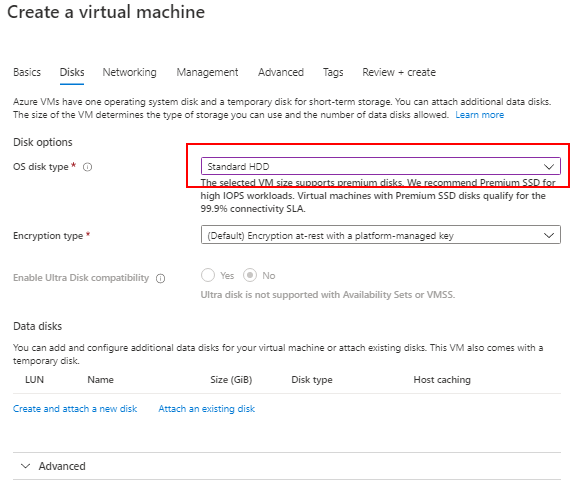 Networking:

Name: Leave the default
Virtual network address range: 10.103.0.0/16
Subnet name: subnet0
Subnet address range: 10.103.0.0/24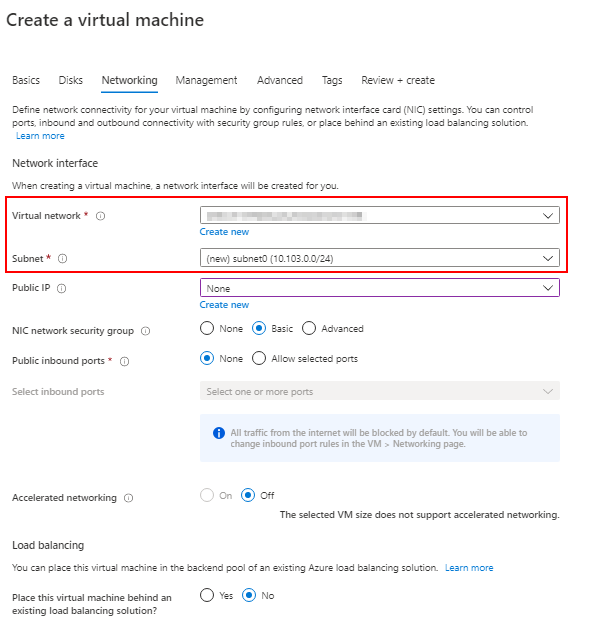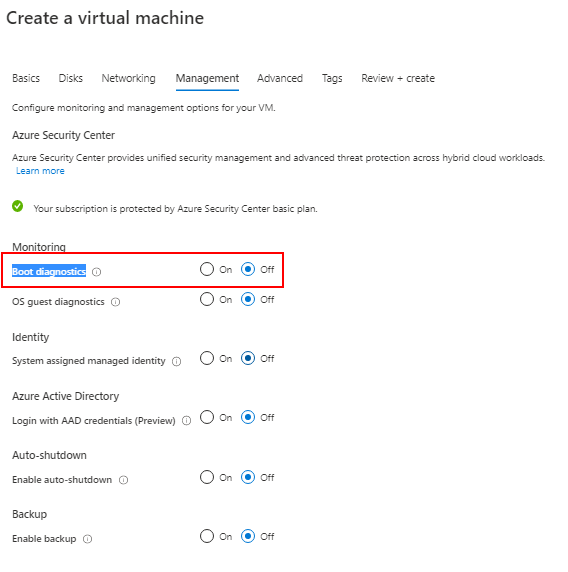 Leave all other settings with their default values
Click Review + create.
Create the VM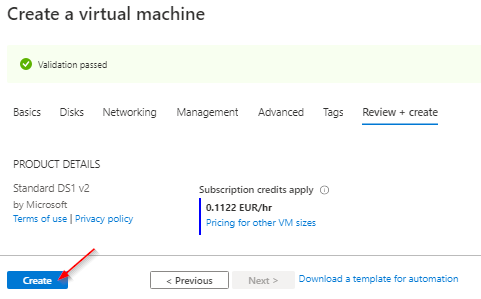 Wait for the deployment to complete before you proceed to the next task.

Continue to Task 2